Strings That Nimble Leap – Various Artists ft. Nick Hooper [CD]
£22.00
A major recording project, with profits donated to charities including MIND, Help Musicians UK, and The Woodland Trust. The CD can be purchased directly from Fylde Guitars, with prices starting at £22.00 for customers based in the UK.
Description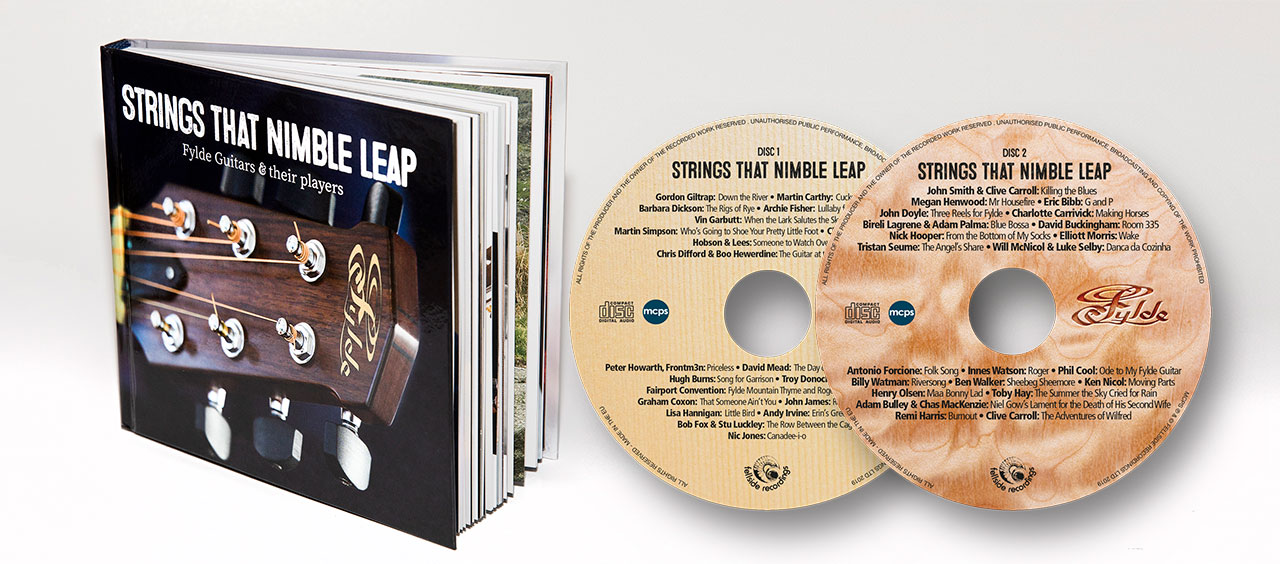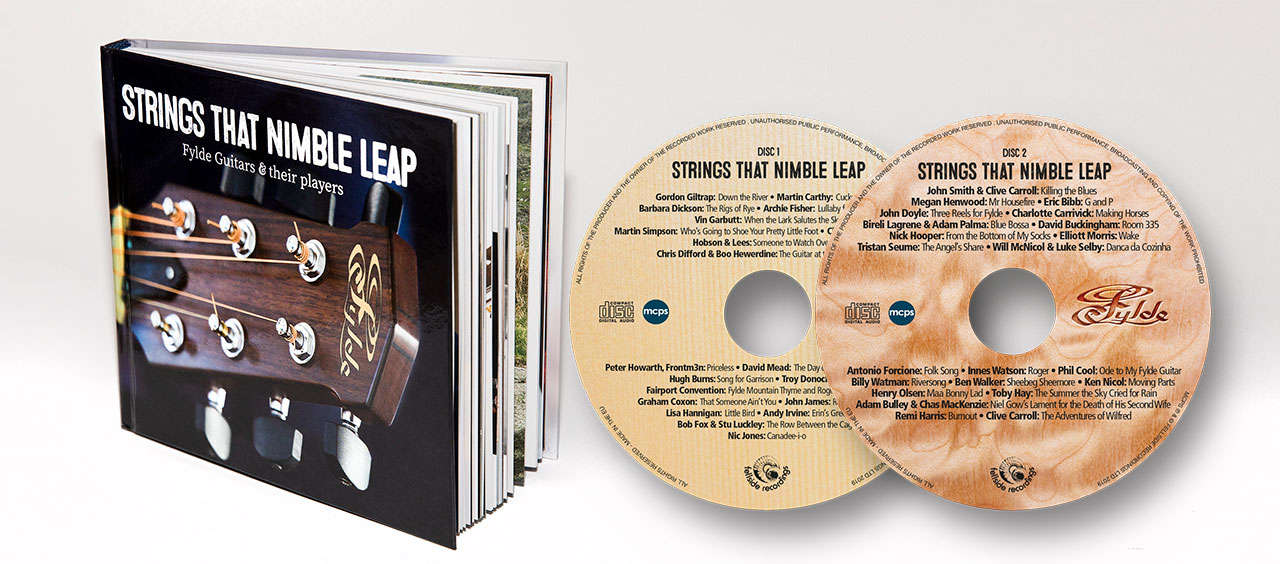 Strings That Nimble Leap is a major recording project for charity, and was first released in June 2019. It comprises 2 CDs, a 128-page booklet, 43 tracks involving 52 musicians, all playing Fylde guitars, or in some cases, mandolin, bouzouki, acoustic bass or ukulele. Most of the tracks are specially recorded, and many have been specially written for this project.
---
Behind the Album
Roger Bucknall MBE (Fylde Guitars)
"The idea for this project has been bubbling away for many years. The original Fylde Acoustic album was made in 1977, but is, sadly, no longer available. I have mentioned the possibility of an "update" many times, and when Chrys Titshall raised it with me in 2018, I realised what a great opportunity we had, with such a long list of artists and friends who might be willing to help.
"Moira and I have often discussed finding a charity that we could devote some time to, but then life gets in the way and the time simply disappears. Here we had an almost ready-made opportunity to build an exciting project that might raise some decent sums of money for important causes.
"We all know people who need help. Musicians often work by themselves, and sometimes have less of the support that others have. This was a "moment of clarity" for us, which made sense of the whole idea, it didn't need to be simply a marketing opportunity or a vanity project. We could raise money for charities that support musicians.
"Trees are obviously very important to me, to guitar making and to music. The idea of helping to plant trees was the final piece of the jigsaw, the whole project seemed complete, at least in principle.
"What had not occurred to us was that it would take nine months, and many sleepless nights.
"We think it was worth the effort, we hope you do too".
---
Reviews
Glenn Kimpton, Folk Radio
If you are a stringed instrument nut and are into the craftsmanship and materials that go into a build, along with the tunings for the songs, then the notes and photos included here will make your mouth water. If, however, you just want to listen to the music, then this will also please you very much, as there is a huge host of top-end musicians playing here, many performing bespoke songs or tunes for the project including gorgeous traditional pieces or originals …. Rest assured that this collection is of the highest quality, with beautiful instruments being played by some of the very best musicians in the game.
Acoustic Review
The artists included on what must be one of the most enterprising projects ever undertaken by a British musical instrument company, reads like Who's Who of the contemporary guitar scene.
---
Contributors
Eric Bibb, David Buckingham, Adam Bulley and Chas MacKenzie, Hugh Burns, Charlotte Carrivick, Clive Carroll, Martin Carthy, Phil Cool, Graham Coxon, Barbara Dickson, Chris Difford and Boo Hewerdine, Troy Donockley, John Doyle, Dave Pegg and Chris Leslie, Fairport Convention, Archie Fisher, Antonio Forcione, Bob Fox and Stu Luckley, Peter Howarth, Frontm3n, Vin Garbutt, Gordon Giltrap, Lisa Hannigan, Remi Harris, Toby Hay, Megan Henwood, Hobson & Lees, Nick Hooper, Andy Irvine, John James, Nic Jones, Birelli Lagrene and Adam Palma, Jez Lowe, David Mead, Will McNicol and Luke Selby, Elliott Morris, Ken Nicol, Henry Olsen, Tristan Seume, Martin Simpson, John Smith, Ben Walker, Billy Watman, Innes Watson and Chris While.